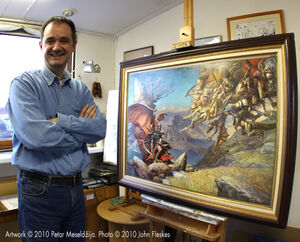 Petar Meseldžija is the illustrator of all of the Children of the Lamp series including from The Akhenaten Adventure all the way to The Grave Robbers of Genghis Khan.
Meseldžija was born in the city of Novi Sad in on August the 5th, 1965 on the banks of blue Danube, the biggest European river.
"I opened my eyes for the first time and saw the mighty river self-consciously flowing beneath the Petrovaradin Fortress, slowly eating up the stone the fortress was built on. There were trees and meadows all around and the birds were crossing the sky twittering cheerfully. I remember a thought crossing my mind: " Good place to start one's life at!" So, I decided to stay." - Petar Meseldžija
Meseldžija drew his comics there and studied art at the Novi Sad Art Academy. Then, in 1991 he packed his things and left the country when it fell into war. A few days later he moved to Amsterdam, the Netherlands, where he still is today, painting pictures and sharing life with the world.
real-life artist
Ad blocker interference detected!
Wikia is a free-to-use site that makes money from advertising. We have a modified experience for viewers using ad blockers

Wikia is not accessible if you've made further modifications. Remove the custom ad blocker rule(s) and the page will load as expected.