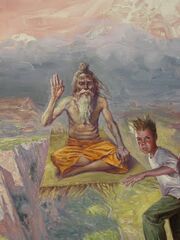 A Fakir is a wandering dervish living on alms. Ten in total, these ancient men were entrusted with an answer to one of the five great mysteries of life and were to rise from the earth if the world was filled with bad luck. Only fakirs have enough control over their bodies to survive without air, food, and water for several years.
Known Fakirs
Edit
Puri
Parvata
Sagara
Vana
Aranya
Keviin
Tirtha
Asrama
Bharati
Ad blocker interference detected!
Wikia is a free-to-use site that makes money from advertising. We have a modified experience for viewers using ad blockers

Wikia is not accessible if you've made further modifications. Remove the custom ad blocker rule(s) and the page will load as expected.